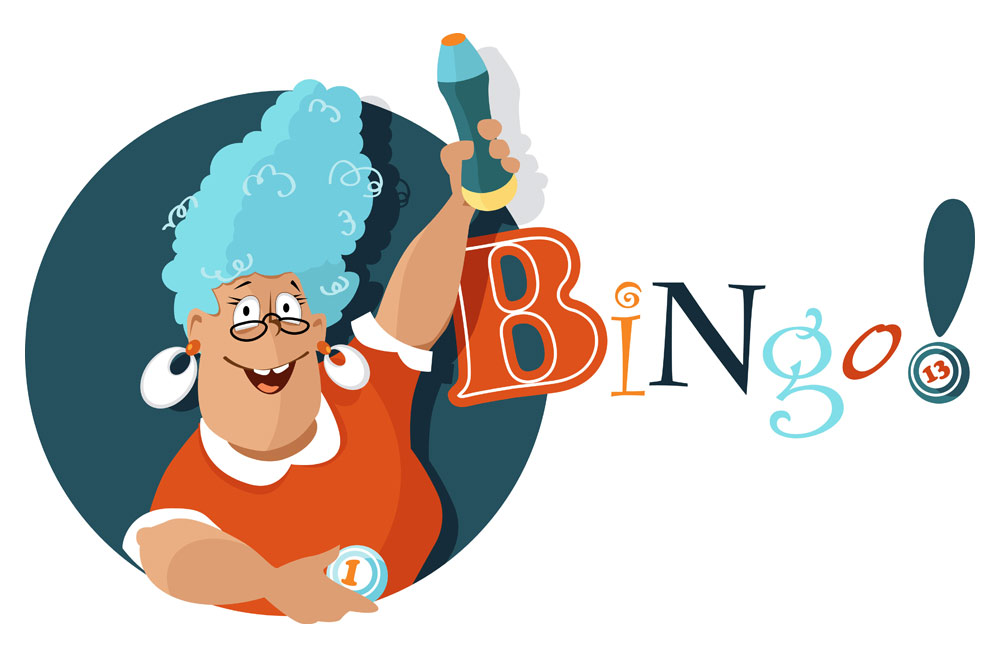 Bingo is so simple you might think it needs no explanation and you couldn't be blamed for thinking this. It's simple and millions play bingo online and 'live' everyday. Who needs to be told how to play bingo? Why would anyone need a list of bingo tips? Surely bingo rules are so simple they need no explanation? And what exactly could be called a bingo strategy? Well you'd be surprised, so if you're a bingo player, read on!
A bit of Bingo history
The origins of today's bingo start with an Italian lottery of the 16th century. In the late 18th century the game was introduced to France where it was renamed "Le Lotto" and played by wealthy Frenchmen. By the 19th century the game had reached Germany but had been demoted to the status of a child's game used to teach arithmetic.
By the early 1920s the game was being played in carnivals in America and was usually referred to as "Beano" which was shouted out by winners. When Edwin Lowe discovered the game in the United States he took it to New York where one of his friends won a game and cried out "Bingo!" instead of "Beano!" Lowe promptly renamed the game Bingo.
Let's take a look at some of the finer points of the game.
Some bingo tips
These are some of the basics of etiquette and good manners to be observed when playing the game:
Sssshhhh! Silence is golden when entering a hall, but politeness is required as well, so keep down the noise and turn on the pleasant expressions.
Respect other people's space. This follows straight on from the above. Keep the noise down and don't break into the peace and quiet of other players who may be deep in concentration.
Keep up. New players often struggle to keep up with the numbers called, so work hard at doing so and check the screens around you for help.
No smoking please. Tension can build when playing and the temptation for smokers to indulge can be great. If you smoke, make sure you do it in the designated areas.
Be sure before your shout. Before you shout "Bingo!" and bring the game to a halt while your card is checked, make sure you're right to do so. Check before shouting.
Keep it to yourself! It's quite easy to fall into the trap of repeating the numbers that are called out, so watch out and avoid it. It can be extremely irritating.
Don't shoot the caller! Whatever your luck, good or bad, it's chance and not the fault of the caller.
When you play bingo online
Online bingo play is a little different, not only because players can be continents apart but because chat is allowed. Chat is monitored by a chat moderator, usually identified by the designation "CM".
Respect the CM. Show respect for the chat moderator and be patient if waiting for an answer.
Be polite. Just as in a hall you need to be polite to other players. When exchanging texts and messages, apply the same rules as when you are in face-to-face contact with somebody. Failure to do so could see you thrown out or even banned.
Avoid capital letters when messaging. This could be misinterpreted as attempting to impersonate a CM as they use capitals, and besides this it can be intimidating for another player to receive a message entirely in capital letters.
Some bingo strategy
The fewer the merrier! The more players there are the more people there are to shout bingo! before you do. Try to choose games with fewer players.
Multiple games. The more successful players are said to play several cards at a time. This may take some perfecting, but take heart: some top players are said to be able to handle a couple of dozen cards at a time and even more!
Patience is a virtue. And should ultimately pay dividends. In order for there to be a winner there have to be losers. Persevere.
Master the game. Look around for other similar articles to this and learn as much about the game and bongo rules as possible.
Last but not least – how to play bingo safely
This is very simple – set a budget and stick to it and stop when you go over or you start to feel angry if you're losing.
Have fun!